THE GO TO EXPERT SYSTEM
The complete roadmap and step-by-step process to attracting bigger and better clients, and getting your team to do more for you.
Never have to worry about where your next client is coming from.




6 months
This programme follows a structured path over 6 months. You'll be supported to make a real permanent difference to your client portfolio and your 'bottom line'.
No Jargon
Everything you will learn, like the Go-To Expert book, will be easy to action right away, simple, jargon free AND based on exactly what works for our clients.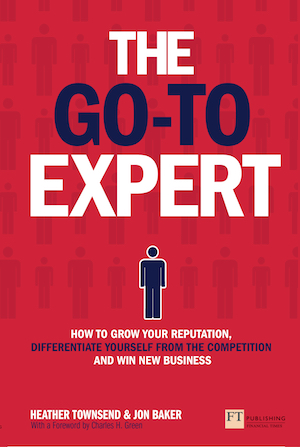 THE GO-TO EXPERT BOOK
The Go-To Expert system is based on the best-selling Go-To Expert book published by Financial Times Publishing. The book has gained over 45 five star reviews on Amazon.co.uk.
I thought this book was very helpful in the way it helped me focus on excellent tips and techniques to upgrade my consultancy work. The authors are real experts and walk their own talk, which is important for me.
Derek Arden
It is a must for any professional that wants to grow their client portfolio, profitably.
Paul Miller
The Next Programme Starts on 1st May 2017
Workbook
Download the Go-To Expert workbook which will help and support you to implement immediately what you are learning in the virtual masterclasses
Private Facebook Group
An expert moderated group of people on the programme for day-to-day queries, celebration and support.
Live Virtual Masterclasses
The interactive virtual masterclasses are live, but you can watch them back time and time again from the comfort of your laptop or tablet.
I engaged Heather's services at a time when I was under pressure to build up a completely new client portfolio, from scratch, as a result of changing firms. Working with Heather gave me the structure, process and confidence to go out and win my new clients – in a way which felt natural and authentic to me. As a result I beat my tough year one targets.
Nick Rudd
YOUR TWO-PART GO-TO-EXPERT PROGRAM
How does it work?
In part 1, each fortnight for 2 months, we will meet online for a 60-90 min masterclass. In the masterclass you will learn the exact same system which has helped our clients double and sometimes triple the size of their client portfolio in less than two years.
You will get everything you need to learn how to attract bigger and better clients, differentiate yourself, increase your client conversion rate and grow a profitable client portfolio.
In part 2, we will work with you in the private Facebook group to complete the Touchpoints Challenge. In the challenge you will integrate business development into your daily routine, implement your marketing plans and turn your intentions into the sustainable world class results you deserve and need.
The Touchpoints Challenge really helped refocus my mind and make daily sales and marketing activity part of my day job. After just 3 weeks of the challenge it has lead to some great new sales leads from our ideal clients.
Frederika Roberts
The Touchpoints Challenge held me accountable. Hearing the shared successes of the group kept me motivated.
Natalia Cohen
HERE'S WHAT YOU WILL BE LEARNING DURING
THE GO-TO EXPERT SYSTEM
Masterclass 1
Three reasons your marketing isn't working and how to identify your ideal client to target
---
Discover the three reasons why your marketing isn't working and quick fixes to put this right
Identify quick actions you can take to quickly win high quality profitable new business
Follow our fool-proof process to discover your dream clients who make you the most money and who you love working with
Learn how to make sure your marketing is fit for purpose and significantly reduce the risk that your marketing doesn't work
Masterclass 2
Become irresistible to your ideal clients
---
Discover the buying journey of your IDEAL CLIENTS and what to say and do to help motivate them into buying from you
Identify the KEY WORDS and PHRASES you need to use to motivate your ideal clients to buy without price being a problem
Discover the exact formula that produces the most IMPACTFUL testimonials that help convert future prospects
Use our TRIED AND TESTED informational research framework to get a first meeting with your ideal clients
Masterclass 3
How to turn your network into a predictable lead generating machine
---
Discover how to use the SERVICE framework to reliably deliver high quality new client leads
Learn how to turn social media contacts into clients and reliable referral sources
Find out how to get your clients and introducers to regularly recommend you to the right kind of work
Discover the power of using A-listers to radically increase the number of referrals you receive
Wednesday 29th June
1pm GMT
Masterclass 4
Converting Prospects into Clients: The Easy Way
---
Learn how the DUFF framework can stop you chasing leads which are never going to convert
Discover why buyers rarely buy on price and what you can do to maximise your chances of winning the work
Identify the misconceptions most professionals have about the sales process which prevents them from winning work
Learn the 3 questions buyers have which you need to ANSWER in order to win the work
Learn the EXACT WORDS and PHRASES to use in the sales process to identify the real reasons a prospect is interested in your services
Early bird
Available until April 20th
Access to the 5 Virtual Masterclasses

Access to the private Facebook Group

Complimentary copy of The Go-To Expert (worth £20)

3 hours of 1:2:1 coaching (worth £750)

Review of LinkedIn profile (worth £150)

Price excludes VAT
Access to the 5 Virtual Masterclasses

Access to the private Facebook Group

Complimentary copy of The Go-To Expert (worth £20)

3 hours of 1:2:1 coaching (worth £750)

Review of LinkedIn profile (worth £150)

Price excludes VAT
With coaching
Includes one to one coaching
Access to the 5 Virtual Masterclasses

Access to the private Facebook Group

Complimentary copy of The Go-To Expert (worth £20)

3 hours of 1:2:1 coaching (worth £750)

Review of LinkedIn profile (worth £150)

Price excludes VAT
Heather has helped me establish myself as the firm's expert on independent retailers and FMCG. As a result of working with Heather I now have the luxury of picking the clients I want. No more relying on following up leads from the telemarketer for me. So many positive things have come out of our relationship, not least a 5x return on my investment, targeted introductions from her black book and 6 pieces of PR in the right trade press.
Phil Mullis
Frequently Asked Questions
I'm interested in the program, how can I find out more details?
If I don't find the programme valuable will I be able to get a refund?
Our aim is to make sure that ALL of our clients are happy. If after talking with us we can't rectify what is wrong with the programme for you, we will agree a no-quibble refund for you.
When will I be invoiced for the programme?
Can I pay by credit card?
Yes. When you sign up, you will automatically be asked to pay by credit card via our payment processor (Stripe).
If you prefer, we can set up a GoCardless link for you to pay via your bank instead; please contact us if you would prefer this.
Is VAT payable?
All prices quoted are exclusive of VAT, which is charged at the standard rate.
Who will be my coach on the programme?
If you decide to add in 3 hours of coaching into your programme, you will be coached by Jon Baker if you run a small business or Heather Townsend is you work in a larger practice.
Will there be a recording of the virtual live masterclasses?
There will be a recording made available within 24 hours of the virtual masterclasses. An audio transcription of the masterclasses will be available within 1-2 weeks of the masterclass.
Will you open up this programme again if the time is not right for me now?
We plan to run this programme about 3 times a year. The next programme will start in May, and then again in October so do get in touch if you would like to reserve your place.
If I attend the programme will you guarantee that I will rapidly grow my client portfolio?
What we will guarantee is that if you attend all the masterclasses, implement a focused marketing plan, and do at least 5 touchpoints a day whilst on the The Touchpoints Challenge, you will win business worth significantly more than your investment in the programme.
We are so confident that if you do all this and you still don't get a return worth at least twice your investment in the programme, we will give you at least 2 hours of 1:2:1 coaching (worth £600 + VAT) to help you build your client portfolio.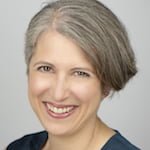 Heather is an award-winning author of 4 books, including 'The Go-To Expert' and 'How to make partner and still have a life'. In the last twelve months her clients have added over £1m to their portfolios. She loves helping her clients, particularly the reluctant business developers, become confident and effective at business development.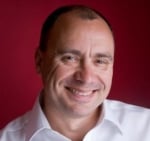 Jon Baker, co-author of The Go-To Expert, has worked with thousands of people in the accountancy, legal and consultancy professions, from small businesses to large practices. Jon has an MBA and is an NLP master practitioner. Jon has a track record of helping his clients double to triple the size of their client portfolio.